We define Societal Systems Engineering as a multidisciplinary approach integrating multi-methodology based processes and control strategies, that supports the development, management and sustainability of business and Societal Systems.  This model considers society as a system and business as a system within the broader societal system.
Our solution applications are of three types:
Soft Systems that are based primarily on adaptable and open-ended human and societal interactions
Hard Systems that are based primarily on controllable engineering, business, and technological factors; but going beyond traditional approaches by taking a systems approach to enable broad perspective solutions
Hybrid systems that have significant Hard System and Soft System interdependence.
The unique approach of WOSSE is in expanding systems engineering into new areas and applications through a multi-disciplinary approach; and second in defining and bridging hard systems and soft systems.  Utilizing a range of societal systems analysis, modeling, systems thinking, collaborative systems, monitoring and control, and decision making tools, societal solutions can be developed with the help of a well trained integrated process team lead by a Societal Systems Engineer.
For a society, the Societal Systems Engineering methodology, offers the following applications:
The Societal Capital Framework (SCF) and Societal Capital Index (SDSIF)

:  The traditional approach to measure social progress on single-dimension indicators like GDP is incomplete.  Our approach defines the goal as the Societal Capital Index of a Society, which encompasses the ongoing capacity and processes for social systems to provide economic, cultural, communal, educational, health, and overall well-being of a society.

Governance Efficiency Maturity Model (GEMM)

:  This approach is about improving Governance Efficiency, by describing the maturity stages of governance, the capabilities and processes required within each maturity stage, and how to progress to advanced stages of governance maturity.

Societal Development and Sustainability Integrated Framework (SDSIF)

: This application is about Societal Sustainability

Societal Sustainability Maturity Model (SSMM)

: This application is about Societal Sustainability

Societal Capital Model (SCM)

: This application is about developing Societal Capital

Societal Systems Engineering Unified Model (SSE – U-Model®)

Societal Capacity Building and Development Model (SCBM®)
For business organizations, WOSSE offers business applications in the following  areas:
Business Process Improvement: This is a matured area, that we now bring a systems engineering approach to

Product/Systems Life Cycle Management

: This is an area of shortage in engineering, for which we provide training and services.  The new frontier here is how product and services interact with society.
Compliance Management

Business Capacity Building

: Today's focus on shareholder value has lead to shorter term pressures which crowd out the longer-term potential of a business.  We define a framework for Business Capacity through a maturity model of strategy and processes

Business Sustainability Strategy

: Today's rapidly changing markets, competitive landscapes, and environments are outstripping business sustainability for keeping up.  Our framework changes the scope of business planning to a Sustainability Framework, utilizing a systems approach that incorporates interdependence on markets, innovation, societies, and government.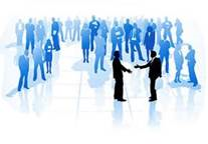 Marketplace and Partnerships
WOSSE membership enables companies to discover each other's services and work together on projects, due to the need for systems project to have multi-disciplinary capabilities and complementary technologies.  The partnership could be based on a market share, profit share or company share offering.
Membership services also enable and deliver knowledge, education, and connectivity to create a community of societal systems professionals.   You are invited to join our organization to help solve societal and institutional challenges using the WOSSE systems-based approach.
Financing and venture Capital
WOSSE envisions working with local as well as international financial institutes and donor agencies to provide financing for small size projects qualified for financing. Projects are selected based on their impact on local community sustainability.
WOSSE also seeks to work with local as well as international Venture capitals firms and agencies to provide financing for projects qualified for venture capital. Projects are selected on the basis of their impact on local business, economic viability and community sustainability.